Business
Nedis Connect
Nedis Connect, provided by Nedis
Save time and have access to the latest product data
When you work with Nedis we do not stop at the delivery of our electronic-related solutions and products. We make selling easy by electronicly delivering the required information for you and your customer.
Electronic Data Interchange
If you already have an EDI connection you can also connect it to our backend systems. Currently we offer the following EDI messages:
Product data
ORDER
ORDRSP
DESADV
INVOICE
Our EDI partner Onetrail will make sure you can send and receive all messages in the format you desire via one of our secure connections. For more information please email our EDI team at edi@nedis.com or contact your Nedis account manager.
Click here to see an overview of the NEDIS GLN numbers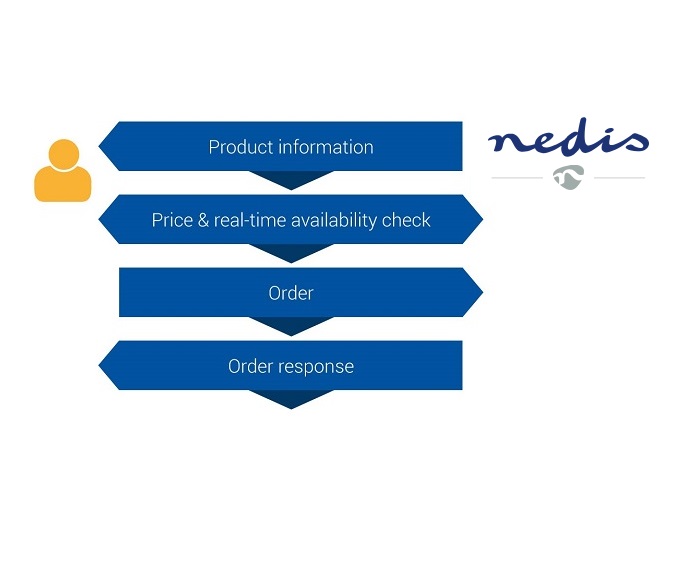 More about EDI
Product data
We offer a daily update of our assortment including price and availability. We include links to media files such as pictures, videos and downloads. We can provide hourly stock updates and a real-time price and availability check.
ORDER
We can receive and process your orders automatically, whether it is a warehouse order, a central order that needs to be shipped to a local store or a drop shipment order that must delivered directly to your customer.
ORDRSP (Order Response)
The Order Response message (ORDRSP) is an order confirmation sent by Nedis via EDI as a response to the order that you have sent. The Order Response message contains the actual overview of the order that is to be sent.
DESADV (Despatch Advice)
The Despatch Advice (DESADV) is the electronic version of the paper advance ship notice or Advance Shipping Notice (ASN). This EDI message contains all information regarding the delivery. In the most concise format the DESADV only states who sends the message, who receives the message, the expected delivery date of the order, the articles on the order line, the item code (EAN/GTIN/SKU) and the ordered quantity.
INVOICE
Using an EDI in connection with financial transactions it will reduce errors and paperwork and improve access to real-time financial data. Therefore Nedis is offering customers invoices through EDI. The INVOICE message includes information such as the original order number, charges, levies and VAT information.
A daily feed of the newest product data, professional product images, prices and stock details.

What is Nedis Connect?
Nedis Connect is a comprehensive package of electronic solutions that enable you to automate your orders towards Nedis and fuel your webshop with our high quality product data.
Do you want to know more about the numerous possibilities of Nedis Connect? Keep reading for further information. Of course you can also contact our E-commerce team at ecommerce@nedis.com or contact your Nedis account manager.
Click here to see the Quick Start Guide
Click here to see the Technical Implementation manual

Nedis Connect
Article data
Every day we publish the newest product information, clear product descriptions, professional product images, prices and stock details. This information can be imported into your webshop, ERP system, POS system etcetera for sales and comparison functions while improving your processes and decreasing error margins.
Extra files
In addition to the article data Nedis provides a list of extra files that includes information about accessories, alternatives, variants and Frequently Asked Questions to complete the article information on your webshop to ensure your customers will find the product they are looking for.
Invoice PDF
Conveniently receive our PDF invoices in your mailbox. You can even decide on what email address you want to receive the invoices, so they can automatically be imported into your system.
Real-time stock check
A systematically real-time stock check will reduce backorders and gives you the possibility to offer an alternative product to your customer. Before sending out your orders to Nedis, we recommend to perform a real-time stock check to confirm that the requested article is available.
Electronic order
By using our email order format you can forward your orders automatically to Nedis so you don't have to enter your orders manually in the Nedis webshop. Nedis will receive your orders and process them. This saves you time and reduces errors.
Dispatch information
When your orders are being shipped, Nedis communicates an overview of all shipments for your orders into a single file that can be easily imported into your systems.

Dispatch information includes:
Parcel information
Quantities shipped
Track & Trace information to track the parcels with the transporter
Do you want to be up to date and have access to the latest product data?
Start with Nedis Connect. Get in touch with our EDI team to discover new opportunities.