SmartLife Air Conditioner | 12,000 BTU | Up to 75 m3 | Wi-Fi | Android™ & iOS | Energy Class A
Smart Living/Smart Home/Automation
SmartLife Air Conditioner | 12,000 BTU | Up to 75 m3 | Wi-Fi | Android™ & iOS | Energy Class A
Brand: Nedis
Article number: WIFIACMB1WT12
EAN number: 5412810322855
SmartLife Air Conditioner | 12,000 BTU | Up to 75 m3 | Wi-Fi | Android™ & iOS | Energy Class A
Vendor Part Number: WIFIACMB1WT12
EAN number: 5412810322855
This Nedis® SmartLife air conditioner covers 75 m³, which is perfect to cool rooms rapidly at home or in smaller offices.
It has a max. noise level of 62 dB, so you would hardly notice its presence if it wasn't for the nice, constant room temperature. And with energy label A, you don't have to worry about using it.
The smart air conditioner has a cooling and fan mode and is additionally equipped with a dehumidification mode which is perfect for holiday homes.

Expand your SmartLife system - effortlessly
Download the Nedis® SmartLife app on your tablet or smartphone to enable remote control of your air conditioner, no matter where you are. For even more convenience you can pair it with your existing Nedis® SmartLife products and create scenes and time schedules. No extra kit and no connecting hubs: this is home automation made simple.

Operate any preferred way
In addition to remote control via the app, you can also connect the airco with Google Home or Amazon Alexa for voice control. Or use the supplied remote control to set timer, night mode and other numerous functions.

The airco is equipped with wheels and a handle so it's super easy to move it to any room that could do with a nice and cool climate.

About Nedis® SmartLife
Discover a wide and ever-expanding range of products - such as bulbs, switches, sockets, sensors, and cameras - that can all be controlled through an easy-to-use and intuitive app. With voice control features supported by Amazon Alexa and Google Home, and no need for anything more than your existing Wi-Fi network, this is the connected, smart home made simple.
Whether you're looking for a single smart bulb or socket, or you want to automate your entire house, discover how accessible smart technology is today.
Features
• Free Nedis® SmartLife app - control the temperature in the room from wherever you are and come home to pleasantly cool surroundings • Supports Amazon Alexa and Google Home - for voice control • Easy to integrate in your existing SmartLife system - pair with other SmartLife products to create any type of scene • Large cooling capacity: 12,000 BTU, covering a surface of 75 m² • Including remote control with LCD screen for more operating convenience • 24-hour timer: airco automatically switches off after preset time • Sleep mode for a subtle temperature increase overnight • Self-evaporating system for increased energy efficiency and cooling performance • Equipped with water tank-full indicator • Easy to operate control panel with soft-touch buttons and LED display • Automatic air swing for a perfect air flow • Sleek design, fits in every interior
Others also bought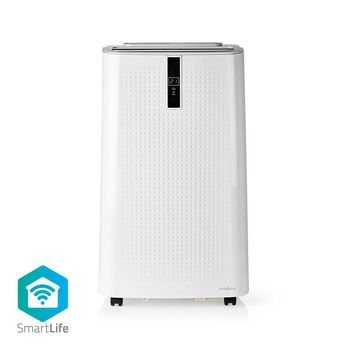 SmartLife Air Conditioner | 9000 BTU | Up to 60...
Suggested Retail Price (incl. VAT)
£ 464.99
Package contents
Air conditioner
Remote control
Exhaust hose
Window kit
Window kit adapter
Quick start guide
Product specifications
Colour
White

Power plug
Schuko / Type F (CEE 7/7)

Energy class
A

Length
420 mm

Feature
Adjustable Temperature Control
LED Display
Sleep Mode
App
Self Evaporating
24 Hour Timer
Water Tank Full Indicator
Automatic Air Swing
Remote Control with LCD Display
Soft-Touch Buttons

Width
360 mm

Fan speed
High/Medium/Low

Noise level
≤ 65 dB

Energy efficiency ratio (EER)
2.6

Operation modes
Cooling / Dehumidification / Fan

Cooling capacity
12000 BTU

Room size capacity
54 - 78 m³

Gross weight
29.5 kg

Dehumidification
28 l/Day

Power
1357 W

Timer
24 h

Number of Speed Settings
3

Height
720 mm

Air circulation
400

Remote control
Infrared

Frequently asked questions
We have found the following questions for you in English
Can I give other people access to my Smartlife devices too?
Yes you can.
Each person needs a unique account on their mobile device.
To add them as "family members" follow these steps:
In the main screen of the app tap on the name of your home (top left)
Tap on Home management
Tap on the name of your home again.
Tap on "add family members" and fill in the account details of the person you want to add.
It will give them access to all the devices in your home as a normal meber or admin (you can select this)

If you only want to share a single device in a home, go to the settings menu of the device and select "share device" -> add member.
My Smartlife products lose the Wifi connection every time.
This is probably a Wifi problem, this can be for various reasons.
1.) Wifi signal is unstable.
2.) Wifi signal is too weak.
3.) Using an access point with the same SSID and password that do not support the IEEE 802.11R standards.

Problem 1 can often be solved by restarting the router.
Problem 2 can be checked with an app Wifi analyzer with this the signal can be viewed and corrected to a better position.
Problem 3 can be checked as the access points are turned off, the Wifi signal is still good and the connection remains if the access points are a problem, a Mesh solution can then be used.
Please make sure that they support IEEE 802.11R standard.
Maximum number of members that can be added to a family.
You can add maximum 20 members.
I want to control my Nedis SmartLife products with Google Assistant. But I can't control them.
To control your Nedis SmartLife products with Google Assistant, you need to assign your Smart Life products in a room also in Google home.

1. Start the Google home app.
2. choose Settings
3. choose More Settings
4. Go to the tab off your home.
5. If a device is not assigned to room, tab on the device name and assign it to a room.

Now, you can control your devices by Google home products.



How do i add Nedis SmartLife to Google Home?
Add the "Smart Life" service to Google Home (no Nedis in the name).

Go in Google Home to Assistent -> Home Control and choose here "Smart Life" as service.

Use the Login details of the "Nedis Smartlife" app.
Compatible Nedis SmartLife products will then be added to Google Home.


Where these Frequently asked questions helpful?
/
You may be also interested in these product(s)